The "heart" of the electrical system
Don't let this happen to you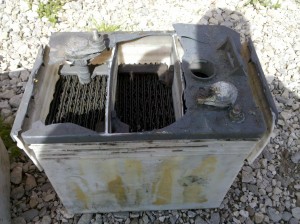 Improper battery connections usually cause catastrophic component failure.
Many times positive and negative wires are not marked or color coded.
If you plan to change your own batteries take the time to mark each and every wire,
use masking tape and a sharpie,
draw a picture of exactly how each battery is installed and take a  photo.
We Sell and Install Several RV Battery Types:
(sorry we can not install a battery you purchased somewhere else)
Flooded batteries – typically the least expensive and work fairly well.
Outside ventilation is required.
Corrosion from electrolyte leakage is the most common problem.
Sealed Gel batteries – Costs are higher than flooded batteries.
Maintenance is not required. Ventilation is not required.
Corrosion is usually not a problem.
Longevity is comparable to a flooded battery.
AGM (absorbed glass mat)  batteries do not require ventilation and will not corrode.
AGM batteries typically last longer than flooded or gel batteries. There is no maintenance.
Discharge and recharge rates are better.
Costs are higher.
Proper battery testing methods are important.
Deep cycle batteries typically have shorter warranty periods than starting batteries.
This is due to construction, design, and use.
We recommend testing your RV batteries at least once a year.
Need your batteries tested- Make your RV Service appointment  at our Sunbury, Ohio Shop today
BATTERY CARE DURING STORAGE:
Proper battery care during storage is important. Batteries should not be discharged.
A discharged battery may freeze during cold weather. Be certain not to overcharge.
Remember, leaving the power cord connected for extended periods can overcharge the batteries.
Many times RV's have a parasitic drain.
A parasitic drain is an item that continues to draw amperage when the RV is not in use.
For this reason, I recommend disconnecting the batteries during storage.
You can disconnect with a switch if your RV has it, or remove all battery cables from a post.
I also recommend an automatic battery charger be used during storage.
This type of charger can be left on the batteries continuously.
Above all, use common sense and always take proper safety measures.
If you need professional RV Battery assistance call 419-529-2700 ext 2