Looking for a new RV awning?
Was your awning damaged in the recent storm that ripped through Central Ohio?  We can help.
We offer complete RV awning sales and installation in our RV Service shop, conveniently located 5 miles off State Route 71, near Columbus Ohio.
Do you need a new RV Patio Awning?  New Side Window Awnings or even a New Slide Topper?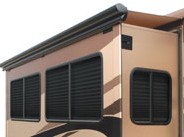 Check on Full Cover Protection For Your Slideout.
For the best protection and streamlined good looks, choose the A&E Systems SlideTopper FC from Dometic. A durable metal case guards against damage from obstructions, such as protruding tree limbs or sharp objects. Plus, the sturdy vinyl awning shields your slideout from debris caused by animals and trees. SlideTopper FC fits units up to 15.5′ wide and projections up to 44″.
We sell Dometic A&E RV Awnings, other RV Awning Brands are available, please call 419-529-2700 ext.2  to discuss your individual RV Awning needs.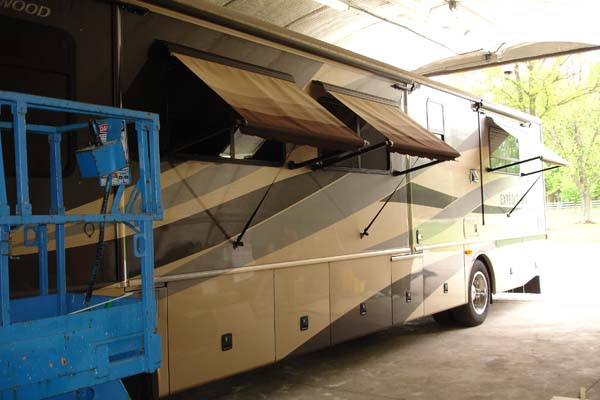 The owner's of this Fleetwood Expedition RV enjoy camping and tailgating at many events, including  Nascar Races.  Shade is often in short supply when they are not staying at a campground.
Problem:
The sun pounding in the RV windows was making it difficult to cool down without running the A/C non-stop.
Solution:
Add Dometic Elite Window RV Awnings.
The RV Dometic Awnings we added  are easy to put up and down.  They match the RV paint job nicely and more importantly  they will keep the RV and the clients much cooler at their next event.
Does your RV need a side awning so you can stay cool?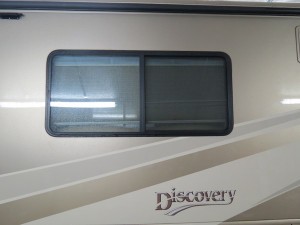 We can help.  This Discovery RV was just in the shop to add 3 window awnings.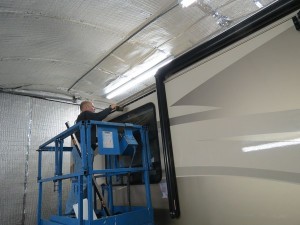 Call 419-529-2700 ext 2 to talk about your RV Awning needs today.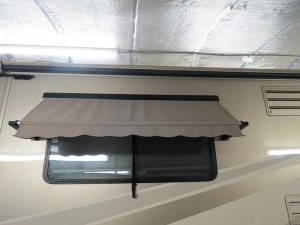 Searching for RV Slide Topper Repair or RV Awning Replacement Parts?  
Was your RV or camper awning caught in a recent Ohio wind storm?  We can help.  We will work with your insurance company too.
We can replace fabrics, repair slide toppers, and replace broken hardware.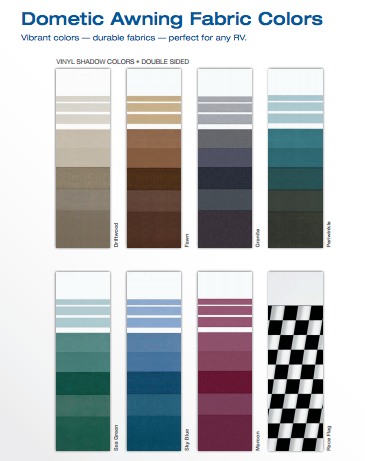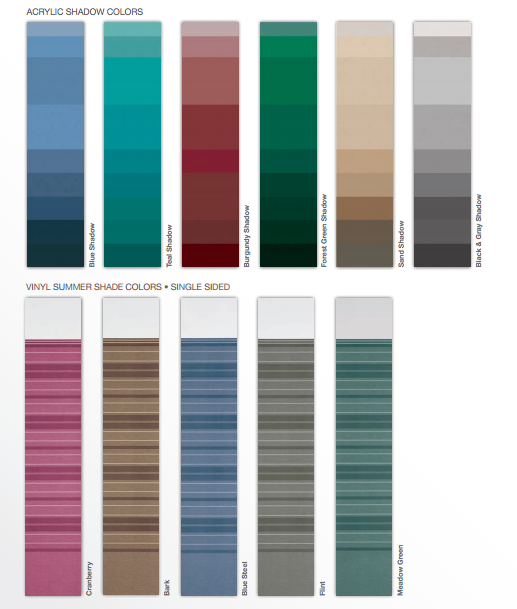 Call 419-529-2700 ext 2  today to get information on awning repair  for your RV.