Welcome to Wilson RV, a family owned and operated RV Service and RV Repair Center located near Columbus, in Sunbury Ohio.
Owner Mike Wilson is a Master Certified RV Service Technician.
Communication is always a priority with us.

Please browse our website,
email or call us 419-529-2700.
We are happy to discuss any  RV questions you may have.
Established in 1954, Wilson RV offers a wide range of vehicle service.
Our across the board vehicle service background gives us unique qualifications for RV repair and RV service.
Our education and decades of experience give us the ability to perform the entire spectrum of RV Coach service/repair as well as any type of chassis service/repair.
Our credentials include RVDA Master Certification as well as certification from numerous RV companies and industry suppliers. Owner Mike Wilson is committed to ongoing RV education by attending supplier and manufacture seminars and schools, reading and constant research.
We have a diverse understanding in repair, ranging from lawn mower service to cars and trucks, camper trailers, motorhomes and large trucks.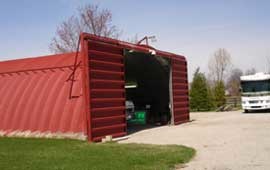 Our fully equipped four bay RV shop is modern and always clean, well equipped and very efficient.
We treat you and your vehicle with respect.
We stand behind our work with a guarantee and personal phone support.